Attorney Endorsements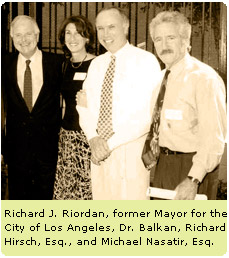 "THE BEST! HAS SAVED MANY YEARS AND MANY LIVES."
Michael S. Axt
Law Offices of Michael S. Axt
Denver, Colorado
"Dr. Balkan has assisted me with sensitive sentencing issues for over 25 years and has been instrumental in my obtaining alternative sentences that have saved my clients dozens of years in prison. Her insight and experience is incomparable in the field."
Alan Baum
Criminal Defense Associates
Woodland Hills, CA
"Dr. Balkan is absolutely the best."
Mark Beck
Orrick Herrington & Sutcliffe LLP
Los Angeles, CA
"I have known Dr. Sheila Balkan for over twenty years. I have been delighted with her insightful, creative, and effective plans for sentencing memoranda and sentencing alternatives. She is highly respected by judicial officers, and is held in high regard by prosecutors in state and federal courts. Sheila is a "winner" in every sense of the word."
Rick Beswick
Milligan & Beswick
San Bernardino, CA
"In 25 years of federal practice, I have relied on Dr. Balkan throughout my career with 100 percent success rate."
David Chesnoff
Chesnoff & Schonfeld
Las Vegas, Nevada
"Dr. Balkan is exceptionally effective. I wouldn't prepare a serious case without her. She helped me obtain acquittals in both a murder case with special circumstances and a child pornography case."
Robert Courtney
Law Offices of Robert E. Courtney
Redondo Beach, CA
"Sheila is the best. In a white collar fraud case involving a loss of over $70 million, Dr. Balkan designed a community service project for my client that became an enormous success, winning citations from Presidents Clinton and Bush. Because of Dr. Balkan's work, my client was given halfway house confinement instead of a long prison sentence so that he could continue his community work--a great result, thanks to Sheila."
Frederick D. Friedman
Jones Day
Los Angeles, CA
"For the difficult cases, you need the best and Sheila is the one."
Stanley Greenberg
Law Offices of Stanley Greenberg
Los Angeles, CA
"Drawing on years in sociology, social psychology and experience in the courts, Dr. Balkan brings insight, compassion and common sense to her work. As a result, her clients benefit from comprehensive and credible evaluation reports that propose constructive, realistic solutions."
Jan L. Handzlik
Greenberg Traurig LLP
Los Angeles, CA
"Sheila Balkan is a highly accomplished presentence report writer and case disposition strategist."
Brook Hart
Law Offices of Brook Hart
Honolulu, Hawaii
"Recently a Federal criminal indictment of mine was dismissed, in large part, because of how Dr. Sheila Balkan convinced the U.S. Attorney that my client was not the sort of person who would commit this crime. No one has better intuition and skill in the area of sentencing."
Richard Hirsch
Nasatir, Hirsch, Podberesky & Genego
Santa Monica, CA
"Dr. Balkan's insightful and thorough work at sentencing provided the foundation for a district judge to dramatically downwardly depart from incarceration to home detention, over the government's strenuous objections."
Nathan Hochman
Bingham McCutchen LLP
Los Angeles, CA
"No one else I have ever worked with cares as much about or works as hard for our mutual clients. From the moment she takes on a case, Dr. Balkan dedicates absolutely her very impressive skills to find the truth that explains the client's conduct; then she uses that truth to distinguish the client from the multitude of other defendants. Finally, she goes one step further to suggest appropriate, tailored treatment options and sentencing alternatives. In doing so, she has gained the respect, not only of the defense bar, but the courts, prosecutors, probation officers and law enforcement. I would never willingly address sentencing issues in a major felony case without Dr. Balkan on the team."
Steve Jones
Law Office of Stephen P. Jones
Los Angeles, CA
"I have been impressed with Dr. Balkan's knowledge, experience, creativity and professionalism."
Elliott Kajan
Kajan, Mather & Barish
Beverly Hills, CA
"Dr. Balkan is a miracle worker. Her amazing ability to understand human behavior saved my client and got him the help he needed."
Roger Diamond
Law Offices of Roger Diamond
Santa Monica, CA